PBMS Volleyball at home tonight vs Centre. There will only be one match that will start at 4:30. Masks are required and temperature checks will be taken for all patrons. No concession stand will available tonight. If you have questions you may contact Mr.Laney at the high school.

Shout out to the students and staff of PBMHS, AWESOME job on our first day of school. You all ROCKED the day! #warriorproud

PBES Picture Day is coming up on 09/23/2020! Order online at inter-state.com/FlyerEntry/50632NF

PBHS Volleyball will be at Goessel today starting at 4pm with JV and 5:40pm with Varsity. Goessel will be requiring masks to worn inside the event, and temperatures will be taken. Goessel will only be taking credit cards to pay for admission today. If you have any questions you may call Mr. Laney at the HS.

PBHS Football: The HS football season starts tonight at HOME at 7pm. We will be honoring our 2020 seniors for cheerleading, band and football. Senior parents will need to be at the field by 6:30pm. Due to Covid-29, masks must be worn when paying to enter the game, in the concession stand line, in the restrooms and any other time that social distancing can not take place. Come out and support the WARRIORS!!

PBMS: Volleyball will be at Solomon tonight at 5pm. Due to Covid-19, Solomon is only allowing 6 tickets per player. Reminder of parents going tonight that you need to state your name at the door and your temperature will be taken and they are requiring masks. Solomon will NOT have a concession stand.

PBHS Help: We are currently looking for 2 chain gang members for our home HS FB games. We have a game this Friday night, if you would be interested in helping please contact Mr.Laney at 620-983-2196. Thank You Mr. Laney AD

Did you know this about Butler CC courses? -Jr's & Sr's can earn college credit while in high school -BCC classes Gen Ed classes only cost $34.25/credit hour -A new speech teacher is coming to Peabody -There's a scholarship that can help pay for classes -The CNA class is only $47 for high school students -If you have a GPA above 3.0, you can take most college classes It's not too late! Contact Ms. Vivone if you are interested

PBHS VB Tournament Sat Aug 29 at 9am. Notice to all fans, MASKS must be wore at all times. As of today we are not limiting numbers of fans. We are asking that social distancing takes place, and all family members sit with each other. Also we will be honoring our senior VB players, this will take place in the East Gym at 9am. Senior parents please be in the East Gym no later then 8:45am Thank You Mr. Laney

The USD 398 District Reopening Plan can be found on the web site Menu under Documents - in each of the following folders; 1) central office, 2) elementary, or 3) middle/high school. This document may change or be updated to meet the ever changing nature of things at this time.

PBHS VB Tournament Sat Aug 29 at 9am. Notice to all fans, MASKS must be wore at all times. As of today we are not limiting numbers of fans. We are asking that social distancing takes place, and all family members sit with each other. Thank You Mr. Laney

Any Juniors and Seniors interested in taking Butler Community College courses in the Fall semester, please contact Ms. Vivone. Courses available in the Fall include: -Comp 1 (Seniors Only) -US History 1 -Public Speaking

6th Grade Supply List No 2 Pencils Colored Pencils 3 Notebooks 1 recycled notebook for a project (used one from last year) 2 Boxes of Kleenex 1 large size glue gun and glue sticks 2 bottles liqued glue 8 glue sticks Earbuds or headphones for computer 3 containers of Clorox Wipes Thank you, Ms. Kyle 6th Grade Teacher

The USD 398 administration will address the community on Facebook Live Thursday, July 30, 2020, @ 7 pm. This session will contain information concerning the September 9th start, district preparation concerning safety, changes in normal activities to meet these safety concerns, and a general understand concerning the opening plan for the district's 2020-21 school year. The Facebook Live will be located on the Peabody-Burns Jr-Sr High School Facebook page.

The USD 398 August Newsletter is out on the web site ahead of the mailing . Go to Menu, click on Documents, and then on the Newsletters Folder to find the August 2020 newsletter.

Governor Kelly reported today that Kansas schools will not open until after Labor Day weekend. Currently administration is reviewing and making changes to the calendar accordingly. With more planning time we will be getting information out in the coming weeks.

Graduation Week for the 2020 PBHS Seniors!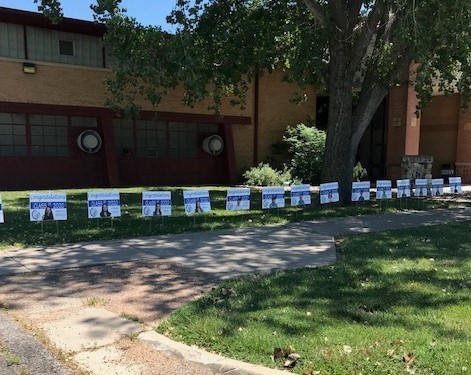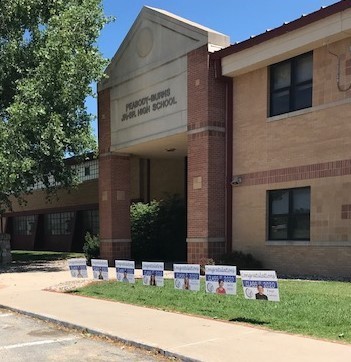 PBHS Graduation: Saturday, June 27th, @ 2 pm in the PBHS- Brown Gym. Due to the current COVID-19 situation, admission to graduation will be by student and parent invitation only and anyone, with the exception of faculty and board members, must have a ticket enter. Doors will open one hour before the event and tickets will be collected at the door. As a district we are committed to providing our 2020 Graduating Seniors a commencement ceremony that will resemble some sense of normalcy during this abnormal time. Social Distancing guidelines provide by our county health department, State of Kansas Health Department and the CDC will be in place. On another note: Baccalaureate has been cancelled for this year.

All student/teacher chromebooks and laptops need to be in their respective buildings/classroom by June 29th for the Technology Department to re-configure. Thank You!

A misunderstanding on my part, the summer weights/ conditioning will be open for incoming 6-12 graders. Once again my apologies. Mr. Laney